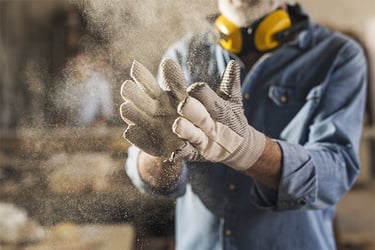 If you're a plant manager or owner of a manufacturing company, then you understand the importance of keeping all systems and machinery running smoothly, maintaining a safe and clean work environment and ensuring your team is productive, happy and healthy.
Improving indoor air quality (IAQ) can go a long way in achieving just that. Poor IAQ in the workplace is a serious concern. In fact, the Environmental Protection Agency (EPA) ranks indoor air pollution (also known as sick building syndrome or SBS) among the top five environmental risks to public health.
Operations that produce dust as a byproduct of their processes contribute to poor IAQ. An industrial dust collector helps improve IAQ so you can:
Have a cleaner facility
Improve employee efficiency
Increase employee retention
Reduce equipment maintenance costs
Improve government inspection ratings
But before investing in an industrial dust collector, there are a few things to consider so that you select the appropriate system for your facility — whether you're building a new facility or making changes to your current one.
Consider Your Application
Over time, dust and debris from manufacturing operations collect on overhead pipes, ductwork, light fixtures, structural steel, ceiling plenums, etc. This dust builds up to the point where vibration shakes it loose, possibly contaminating product and production equipment, as well as contributing to poor IAQ.
Certain applications require a baghouse dust collector, while other applications require a cartridge dust collector. Deciding between the two comes down to — you guessed it — your application.
For fine dust and lighter loading applications such as welding and other fume or smoke applications, a cartridge dust collector would be suitable. When the particulate is larger and the loading is extreme, like that in woodworking operations, it's often best to opt for a baghouse dust collector.
A.C.T. Dust Collectors offers a range of baghouse and cartridge systems, along with the ACTion Booth and LaserPack units. The ACTion Booth is one of the most versatile industrial dust collection systems for air filtration and can be used in sanding, blasting and many other applications where ambient dust is a problem.
Laser and plasma cutting processes generate dust, fumes and various oxides that are dangerous to breathe. Therefore, fume extraction is paramount for the safety of personnel and proper operation of expensive laser equipment. The LaserPack 4 and LaserPack 6 provide a unique, heavy-duty and effective solution for removing dust from your facility; ideal for fume or smoke where sparks are present.
Learn more about the different types of industrial dust collection systems and the advantages of each.
Know Your Dust Properties
Now that you know the different types of industrial dust collection systems and the environments they're most suitable in, you need to ask yourself the following:
What is the size of the dust particles being filtered; small or large?
Is the dust low in density, like wood chips or heavy in density, like fine steel dust?
Are you filtering any abrasive or corrosive dust?
Do you operate in a high-heat environment?
Is there any moisture or oil present in the dust?
You also need to find out if your dust is combustible. The accumulation of dust and debris can pose a potentially hazardous condition — combustible dust — generated from products such as wood, metals, grains, chemicals, plastics, paper and certain textile materials. This can be very dangerous if they are not considered for correctly in the design of the system.
Knowing your dust properties will go a long way in narrowing down the selection of industrial dust collectors that may be the best fit for your facility.
Understand Your Manufacturing Environment
Is there enough room to install and maintain the system? Will your dust collector fit indoors? Is this a cost-effective use of space? Is your facility located in a cold-weather climate?
Answering these questions will not only help you determine what size industrial dust collector you need but also where it's going to be installed. If the dust you're collecting is combustible, for example, often there is no choice — an outdoor dust collector is required for safety reasons.
Bring in a Dust Collection Specialist
For some consultative support along the way, consider working with an industrial dust collector manufacturer, like A.C.T. Dust Collectors, that understands the challenges businesses like yours face and what it takes to keep your environment safe and healthy.
A.C.T. Dust Collectors will help you learn everything you need to know about choosing the right dust collection system for your facility, from:
Why the size of the dust collector matters
Installation requirements for different systems
Functionalities of different systems
As a consultative partner, we're available to talk about site visits (new or existing) to ensure all things are being thought through on the front end so that it's not a costly afterthought.
In a facility visit — whether new or existing — our team looks at the size of your space and assists with application questions, drawings, layout and product customization so that the correct system is recommended for your application. This process saves you time because we get to review every detail and make sure it's done right the first time.
If you're ready to control the indoor air quality in your facility, request a quote today.