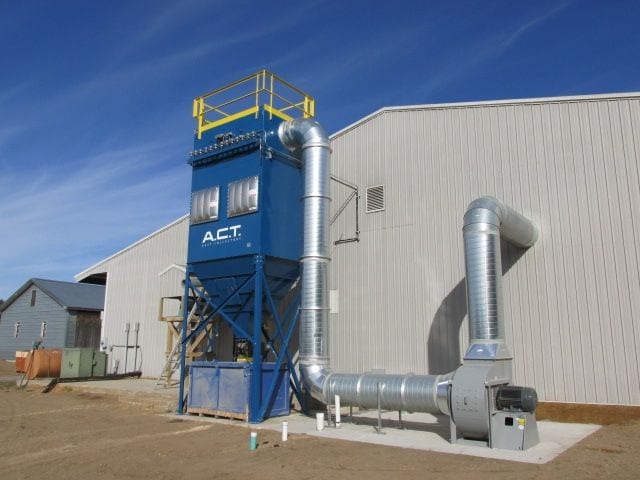 Woodworking Dust Collection Systems
Nearly every woodworking operation requires some form of dust collection. Ranging from fine sanding dust to large molder chips, wood dust can be quickly and efficiently captured for either disposal or reuse. Using effective inlet design, bag filters, and pulse clean, ACT Baghouse Dust Collectors can handle most woodworking applications.
A.C.T. Dust Collectors have been installed in hundreds of processes, capturing dust from numerous woodworking operations. The A.C.T. TLM Series Baghouse has risen to an industry leader using an exclusive hinged filter access door, swing-away blowpipe design, and tool-free bag filter access system. Maintenance no longer requires confined space entry, and bags are accessed from the clean side for easy changing. Contact our woodwork dust collector experts to learn how the A.C.T. baghouse can transform your dust collection needs.
Reliable Woodworking Dust Extractors for Your Application
When it comes to maintaining a safe and healthy work environment for you and your employees, you need a reliable dust collection system in place. Our TLM Modular Baghouse dust collector is just that, designed to meet the unique requirements of each application. Not only is installation easy and straightforward with the modular design and integral lifting lugs, but operation is simple, proven and efficient. Dust-laden air is drawn from the source through a duct system and into the hopper inlet. Through air expansion and an internal deflection plate, the airstream velocity is reduced so large particles drop into the hopper below. The remaining dust particles are filtered through bag filters to ensure that only cleaned air passes into the clean air plenum, through the fan, and is either exhausted to the atmosphere or returned to your building, depending on the installation configuration.
With a woodworking dust collection system in place, you will notice improvements in health and safety, increased productivity, better product quality and happier employees. Furthermore, dust collection systems can help you to comply with government regulations. Our woodworking dust collection systems are quality-built and we can offer systems to cover your needs. Interested in a dust collector for your woodworking application? Contact us today.