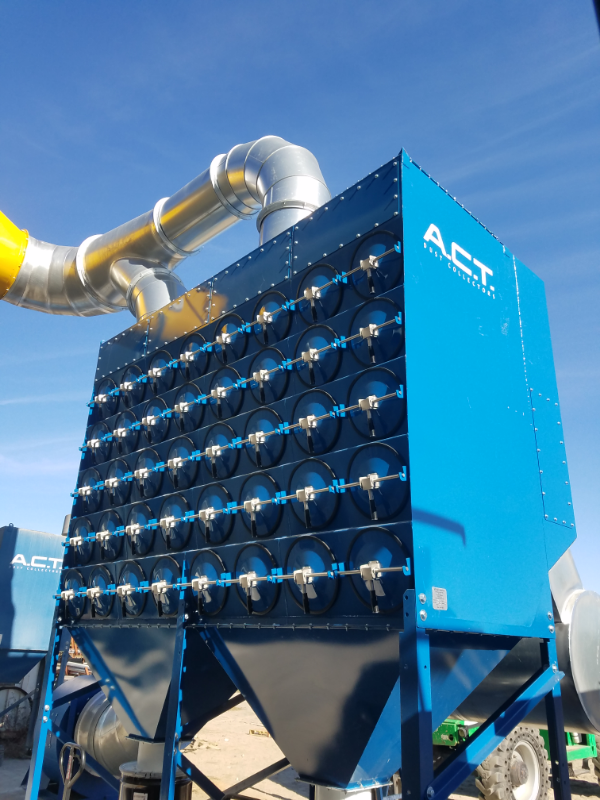 Efficient & Effective Metalworking Dust Collection Systems
Metalworking processes, including metal grinding, cutting and welding, produce a wide range of contaminants that need to be removed from the air. Having a proper industrial dust collection system in place will help you keep your employees safe and the company in compliance with regulations.
At A.C.T. Dust Collectors, every industrial dust collector we manufacture comes standard with high-efficiency Nano-Elite cartridge filters that feature a MERV 15 efficiency rating for effective collection of extremely fine dust, smoke and fume — capturing 99.9% of particulate from the air.
Our industrial dust collection systems are designed with quality, value and simplified maintenance in mind, no matter the application. Quick-lock, easy-access filter doors and downward flow technology are exclusive features that allow for easy and fast filter replacements and greatly reduce downtime.
Metalworking DUST COLLECTORS YOU CAN RELY ON
Our industrial dust collection systems have been used in many metalworking operations around the globe in order to collect, fume and smoke particles that contain an array of metals. A.C.T. Dust Collectors promotes hassle-free, cost-effective plant operations, and our experienced engineers work with you to select the correct size metalworking dust collector and configuration to best capture dust, fume or smoke from your metalworking process.
Benefits of Our Metalworking Dust Collection Systems
They hold more dust than the competition, meaning less maintenance and cleaner air.
They're safer and easier to use overall.
From RFQ to installation, they can be up and running in no time.
They're backed by a team of experts.
HIGH-QUALITY METALWORKING DUST COLLECTION SYSTEM
A.C.T. Dust Collectors has the knowledge, skill and experience to help you quickly and efficiently eliminate dust at your facility. Our wide range of standard industrial dust collector sizes accommodate most needs, and some sizes are in stock for quick-ship.
Custom industrial dust collection systems can be designed and built, and we'll make sure you find the system that works for you. Each of our dust collectors are equipped with a venturi-assisted reverse-pulse filter cleaning system and a digital, solid-state pulse control panel. If you're interested in learning more about our metalworking dust collection systems or want to speak with one of our experts directly about dust and fume collection for metalworking, contact us today.
Read Metalworking Case Studies
METAL APPLICATION: GRINDERS IN A HIGH SCHOOL WORKSHOP
METAL APPLICATION: DUST COLLECTION FOR A WIRE DRAWING MACHINE
METALIZING APPLICATION: A MASSIVE DUST COLLECTOR NEEDED
METAL CUTTING FUME/SMOKE: A CUSTOMER IN OHIO WITH A MOBILE BUILDING