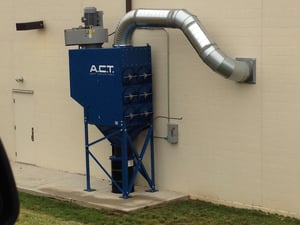 Having a dust-free facility is important, and dust collectors help to ensure just that. A dust collector removes pollutants from the air, providing your facility with cleaner air, which can provide numerous benefits. A dust collector can:
Improve health and safety
Increase productivity
Lead to better product quality
Help you meet compliance regulations
Help to ensure happier employees
But where do you put a dust collector? There are many factors to consider when determining where to locate your dust collection system, and this blog will help you decide whether you should have your dust collector outside or inside of your facility.
Outdoor Dust Collector System vs. Indoor Dust Collector System
Accessible for Installation/Maintenance: Is There Enough Room to Install and Do Maintenance on the System?
When choosing a location for your dust collection system (indoors or outdoors), it's important that you consider if there is enough room for the necessary equipment to install and maintain the system. There may need to be access for forklifts, scissor lifts or cranes.
Collector Dimensions: Will Your Dust Collector Fit Indoors? Is This a Cost-Effective Use of Space?
Manufacturing space is very expensive. Estimated costs to lease manufacturing space run from $4 to $7 and more per square foot depending on location. Estimated building costs for manufacturing space run $40 to $100 per square foot and higher. Depending on the physical size of the dust collector, it can be difficult to justify sacrificing valuable manufacturing space for an indoor dust collection system, especially if you have available space outdoors.
Dust Type: Is Your Dust Combustible?
If the dust you're collecting is combustible, such as aluminum dust, often there is no choice — an outdoor dust collector is required for safety reasons.
Climate: Is Your System Equipped With the Proper Accessories?
If you're located in a cold-weather climate, the collector, fan and connecting ductwork will cool down when the collection system is offline. Upon resuming operation, the return air will be cooler until the system runs for a short time. Dedicated air dryers and solenoid heater kits should also be considered for cold-weather installations.
Building Construction: Is the Building Built so That Penetrations Can Be Made for Connection Duct Work if Needed?
Depending on the material the building is constructed with, it may be difficult to make penetrations for connecting ductwork. If it's a material that's not easily penetrated, it may be better to install the system indoors where less ductwork is required.
Location of Collector: What Should You Look for if the Dust Collector Is Placed Outside?
When placing a dust collector outside, it's important to consider the roofline. The roofline will determine where snow, ice and water runoff occurs. Take into account the elements with an outdoor dust collector system.
Flat Surface: Is Your Dust Collector on Solid Ground?
A level concrete pad is required for outdoor dust collectors. If you're in need of a dust collector for your factory or business, contact us today to get started!