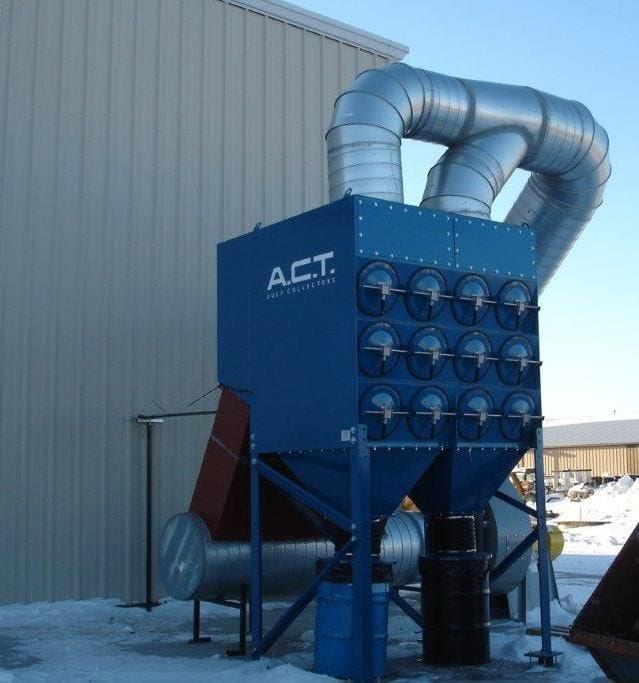 Blasting Dust Collectors
Whether you are using steel shot, grit, aluminum oxide, crushed glass, garnet, coal slag, or numerous other blast media your process makes dust. Dust in the air is harmful to your employees and slows down efficiencies.
A.C.T. Dust Collectors have been installed for many abrasive blasting operations, including both wheel blast and air blast rooms. Abrasion-resistant plenums and ultra-high efficiency Nano-Elite filter media work to increase the life of your dust collector filter. Our experts can help size new A.C.T. systems to best fit your application based on a few parameters that will increase productivity and reduce maintenance for your abrasive blasting application.
Abrasive Blasting Dust Collection
At A.C.T. Dust Collectors, we understand you need the right abrasive blasting dust collection system in place to handle your filtration and meet your current application and long-term needs. We've got the experience and history to meet the demands of your abrasive blasting operations. We design, engineer and manufacture new industrial dust collectors to help you blast correctly, efficiently, on time and below budget. Ensuring the safety of you and your employees is critical. Our Nano-Elite filters remove 99.9% of the particulate from the air stream. The cleaned air is then directed to the location of your choice, either returned to the facility or exhausted to the environment.
We've been offering the ultimate in air solutions for more than 20 years; you can count on us to fulfill your dust removal needs. We can assist with application questions, drawings, layout, and product customization. Custom designed and built systems are common, and our engineering team can help you find the right dust collectors for abrasive blasting. Call us today at 763-557-7162.