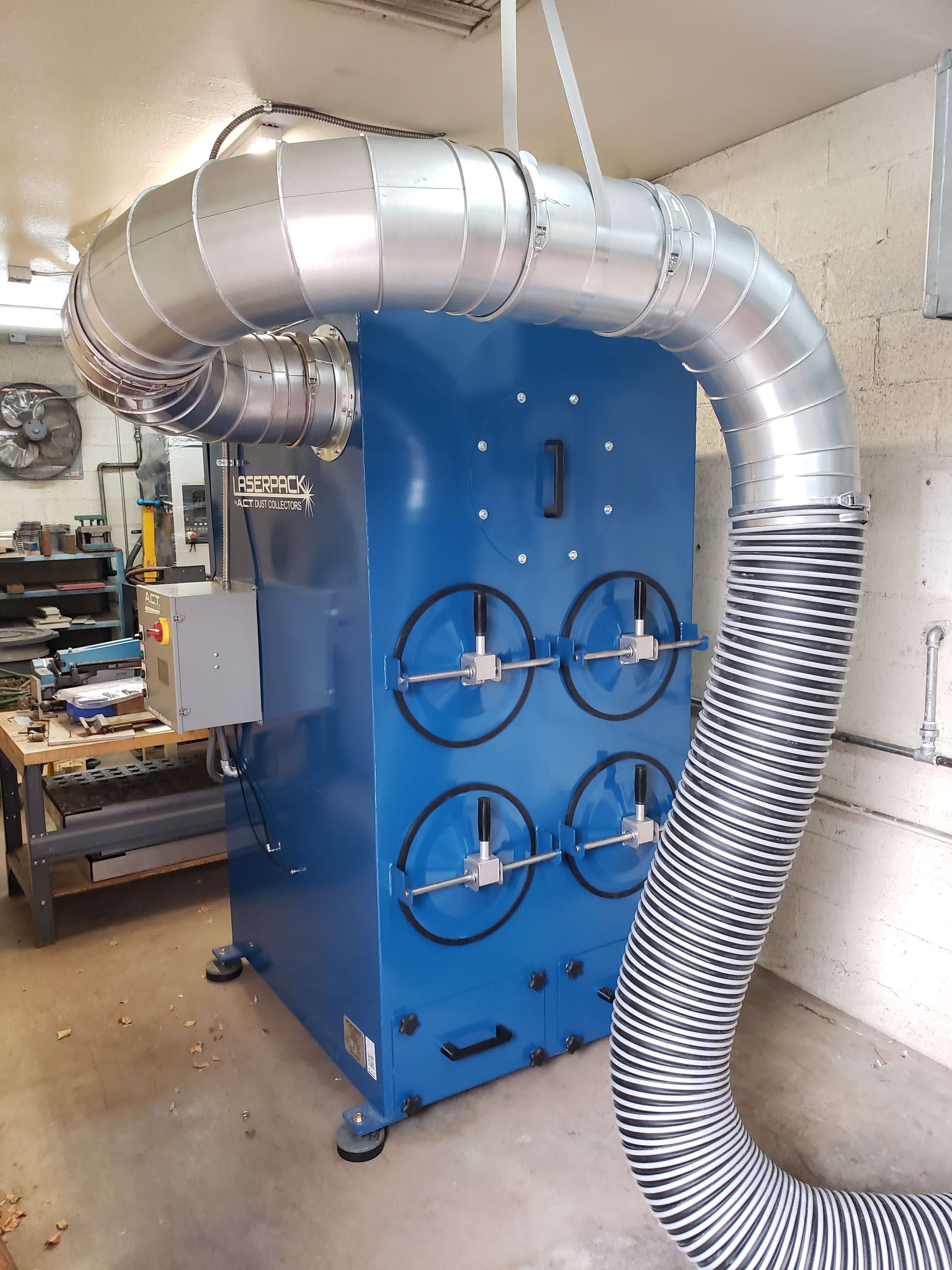 Dust Collectors for Laser and Plasma Cutting
Laser and plasma cutting creates a major source of fume, smoke, dust and various oxides. Therefore, it's important to have a laser fume extractor on site for the safety of personnel and proper operation of expensive equipment. Laser cutting utilizes a focused beam of light and is recommended for applications where parts require tighter tolerances. Plasma cutting, which uses a mixture of gases to cut, is a popular process for cutting stainless steel and is widely used in the manufacturing industry.
Many laser cutting systems include integrated duct ports to connect with dust collection. The critical specifications of the laser dust collector include air-to-cloth ratio and total draw required.
A laser and plasma dust collector from A.C.T. Dust Collectors coupled with ultra-high efficiency Nano-Elite cartridge filters provides the ultimate solution. Venturi-assisted pulse clean system, premium Goyen solenoids and diaphragm valves, and the downward airflow pattern in the dust collector make the system run with maximum filter life, efficiency and effectiveness. Whether you are looking for better value by selecting an A.C.T. dust collector for your new laser and plasma cutting process or improving your existing operation, we can recommend the appropriate solution.
Laser Cutting Services
Our team is proud to offer a laser fume extractor designed specifically for your laser cutting systems. If you're in the laser cutting industry, our LaserPack 4 and LaserPack 6 provide a unique, heavy-duty, and effective solution for removing dust from your facility.
Both laser dust collectors feature an integrated motor/blower that is surrounded with noise attenuation material for quiet operation. Furthermore, our LaserPack dust collectors feature:
Controls that are mounted on the side of the collector and prewired for easy, on-site hookup
An optional remote start to start the LaserPack from the main laser system controls
A dust drawer base that makes for easy handling and disposal of the collected dust
The quality, ability and value of our laser fume extractors lead the laser cutting industry and are what our reputation is built on. From small to large jobs, you can rely on us to fulfill your dust collection system needs. If you're looking for a cost-effective and efficient dust removal solution for your metal laser cutting services, look no further than A.C.T. Dust Collectors. Contact us today.