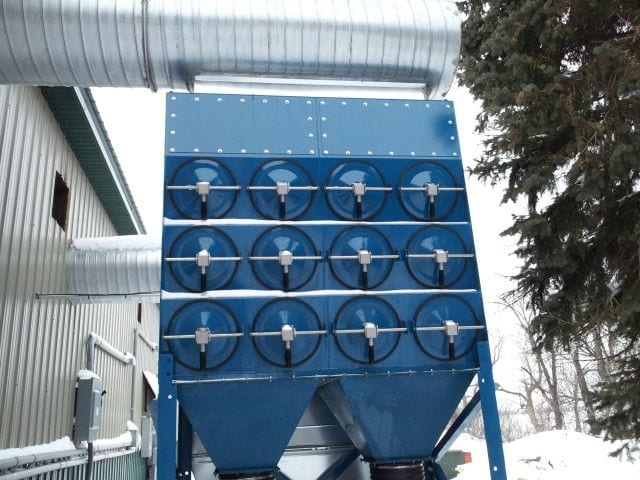 High-Quality Welding Fume Collectors
Weld smoke and fumes are a leading source of air contamination in a metal fabrication facility. Some welding applications such as galvanized metal or stainless are very harmful and must be captured. Capturing smoke and fumes from welding applications can be a challenge. Make the welding fume removal process simple with a high-quality welding fume extractor.
A.C.T. Dust Collectors' welding fume collectors use ultra-high efficiency Nano-Elite filter media that is the ideal choice for filtering the air for welding applications. Many customers return the filtered air to the workspace to conserve heat in colder weather. Other customers exhaust air outside for ventilation. Our dust collector team can help you design the welding dust collector that's perfect for any welding process you have.
Welding Fume Extractor for Smoke Ventilation
The downward airflow technology of our welding fume extractors maximizes airflow in the collector to assist dust separation. With capabilities up to 100,000 cubic feet per minute (CFM) and more, we offer systems to cover your needs. The Nano-Elite media features a MERV 15 efficiency rating for effective collection of extremely fine dust, smoke and fume. In fact, when using Nano-Elite filters, 99.9% of particulate is captured from the air.
Our fume arms are perfect in medium- to heavy-duty welding fume and welding dust applications. The ACT ARM allows you to capture and extract contaminant fumes at the source. Features of the ACT ARM include industrial strength and durability, galvanized steel tubes, powder coated finish, free and smooth airflow and more.
Does your company have a welding or cutting application that desperately needs a welding dust collector? Contact us today. We would love to show you why we have established a reputation as having the highest-value dust collectors in the industry.