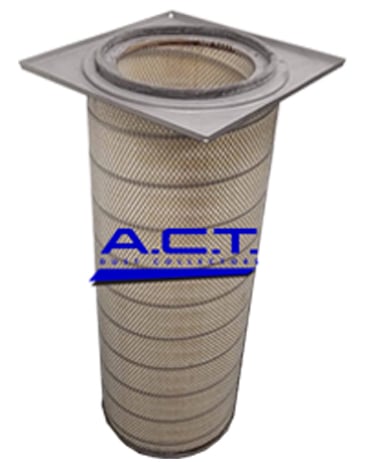 A.C.T. Dust Collectors Filter O.E.M. Cartridge Filter
A.C.T. Dust Collectors prides itself in offering the highest quality O.E.M filters for their cartridge collectors. The primary function of a dust collector is to collect dirt, dust, contaminates and small particulates, which gather on the surface of the filters. Dust will accumulate on the surface of the nano-elite fiber filter, reducing depth loading, and is cleaned off during the pulse cleaning cycle. Nano-Elite filters last significantly longer than other filters. Longer filter life produces cost savings in frequency of filter changes as well as reducing operation downtime for filter change outs.
80/20 Media

Flame retardant coating

Heavy Gauge Steel Structural Elements

Shape: Round

Open/Closed

Gasket Top
In Stock and Ready To Ship!
Read Our Blogs:
Maintaining Filters Air-toCloth Ratio What is MERV rating?