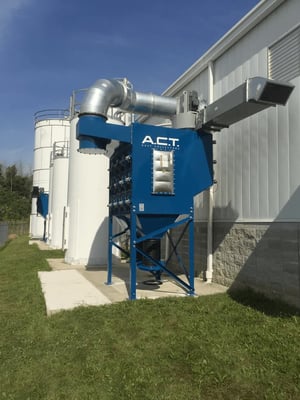 When it comes to dust collection, it can be hard to predict how user-friendly a system will be. As industrial dust collector manufacturers, our dust collector designs incorporate unique features to help our customers maintain and service the equipment as fast and as economically as possible. From metalworking applications to chemical processing, pharmaceutical and more, learn the 12 advantages of A.C.T. industrial dust collectors that will make investing in a dust collection system worth it.
1. Downward Airflow Pattern
Our downward airflow pattern promotes continuous deposit of dust into the hopper by constantly moving the dust from the high inlet to the hopper at the bottom of the dust collector for better on-line filter cleaning and longer filter life.
2. Heavy-Duty 7 and 10 Gauge Construction
While some of our competitors use lighter gauge steel, which is susceptible to damage in an industrial environment, we use primarily heavy-duty 7 and 10 gauge construction to stand up well in your factory.
3. Quick-Lock Easy Access Filter Door
Our unique, quick-lock easy access door is the best filter access door in the industry. With our offset cam, a simple lifting of the cam handle provides access to the filters for quick and easy filter changeouts. This design also means that our filters do not have a support frame in the center of the filter. That gives us a nice, clean, unobstructed pulse for better filter cleaning.
4. No Confined Entry or Poles Needed to Remove the Filters
The downward flow design means that all the filters can be changed from outside of the dust collector. There is no need to enter the dust collector or to fish the filters out with a pole. This means quick and easy maintenance with limited downtime to get you back up and running in a fast and efficient method.
5. We Stock Dust Collectors
Have an immediate dust collection need? Our stocking program allows us to ship a wide variety of dust collectors within days in many situations. No need to wait for long lead times when we can pull units off of our shelves and ship.
6. Venturi-Assisted Pulse Clean
The venturi-assisted pulse clean system has Goyen® diaphragm valves and solenoids. The pulse clean is important to the health of the dust collector and directly affects filter life.
7. Inclined Filter Position With External Rail Support
This allows for filters to be removed easily. The formed front plate and tube sheet make the A.C.T. industrial dust collector extremely rigid, preventing any deforming over time in the most demanding installations. Other manufacturers have reduced fabrication costs with unformed, flat plate fronts and tube sheets, but over time they lose structural integrity sooner.
8. Versatile
Dirty air can be introduced straight in the top, from the front, through an abrasion-resistant inlet. Direct drive or belt drive blowers can draw clean air from the side, bottom or top of the dust collector cabinet.
9. Explosion Venting
When required, it can be located on the top or sides of the dust collector and set up for indoor installation, vented to exterior or complete exterior installation.
10. Compact Footprint
Our dust collector configuration can fit up to a 40-filter unit (10,160 ft filter) on a 7' square footprint. Vertical filter designs require much more space and can't introduce the dirty air from the top (only the side).
11. All-Welded Filter Cabinet for Maximum Durability and Leak Avoidance
Other industrial dust collection systems manufacturers use caulked and bolted panels, which are susceptible to leaking over time, both dust leaking out when pulsing or foreign material leaking in (such as moisture) during operation.
12. Availability of Alternate Medias
The industry standard filter dimensions and design allow maximum availability of alternate and specialty cartridges from a large number of vendors. Replacement filters are competitively priced and readily available anywhere in the country from multiple sources. Numerous custom media materials are also available.
Looking for the best dust collection system for your factory or business? Contact the industrial dust collector manufacturers at A.C.T. Dust Collectors or request a quote today!