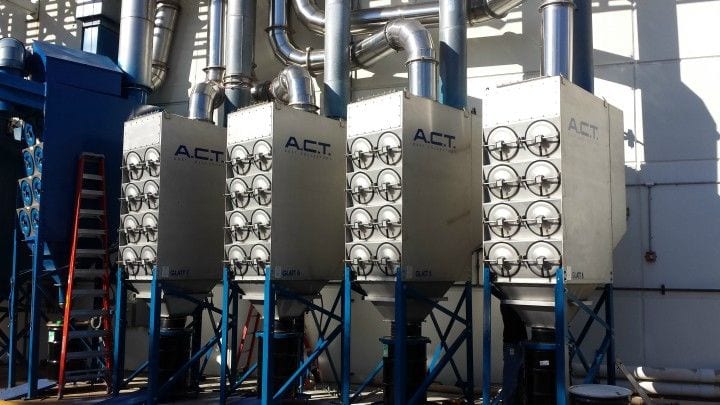 Pharmaceutical Dust Collection
Numerous pharmaceutical operations create airborne particles that require collection. Fluid bed drying, tablet making, pill coating and drying processes are just a few.
A.C.T. Pharmaceutical Dust Collectors are perfect for these applications, using ultra-high efficiency Nano-Elite filter media for sub-micron particle capture. Safety HEPA after filters are available when required. Our engineers help design systems built from stainless steel that are resistant to corrosion and compliant with explosion protection. Some processes require special handling of collected dust for reuse, others are hazardous and changing cartridges requires special equipment. A.C.T. Dust Collectors have been installed in many pharmaceutical applications. Let us help to find the ultimate in safety and efficiency for you.
Reliable Pharmaceutical Dust Collectors
If you're in need of a pharmaceutical air filtration system, turn to A.C.T. Dust Collectors. The customer service, price, and quality associated with our dust collectors make us the go-to solution for removing airborne particles. Our stainless steel dust collectors are especially crucial in pharmaceutical operations. In fact, we currently have several stainless steel dust collectors in the field and have mastered the balance of making these systems the highest quality at a reasonable price.
We have successfully installed numerous systems worldwide, and with our technical expertise and factory support, you can feel confident about having a pharmaceutical dust collection system installed for your operation. At A.C.T. Dust Collectors, we provide ready-to-ship parts and filters, with systems tailored to your specific needs. Our professional design and engineering experts can offer the best support for your inquiries. Perfection is our goal, and we aim to provide complete satisfaction and excellent value to all our customers, including you! To speak with a team member about what system is right for your pharmaceutical operation, call 763-557-7162.
Read Pharmaceutical Case Studies
PHARMACEUTICAL: A LARGE COMPANY NEEDED 4 UNITS FOR USE ON A FLUIDIZED TABLET COATING...