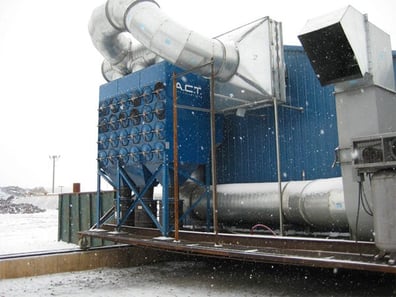 Reducing dust and maintaining air quality in your facility during the winter months can be more challenging than in the summer months. Opening a window or a door in the summer can help with the airflow in your building.
As the weather changes and the temperatures drop, doors will begin to close. As a result, the air circulation in your shop will drop significantly causing the air quality to deteriorate. This makes the working environment less desirable and potentially dangerous to your employees.
An economical way to improve the overall air quality in your facility, while saving energy costs, is with an industrial dust collector.
Why Should I Be Concerned With Air Quality Control in My Facility?
Improving a facility's air quality can be critical to employee safety and retention, but it's also an approach to help improve your overall bottom line.
Less machine downtime and limited annual employee turnover can make a serious difference to your business, not to mention the overall safety of your facility.
Some of the other reasons to invest in a dust collector are that they:
Improve shop and safety cleanliness: Dirt, dust, and/or debris not only can affect the lungs of anyone who breathes this air in, but this particulate can collect on or near equipment, posing a significant hazard. Some dust collector brands have an option to add a high-efficiency particulate air (HEPA) after-filter, which is an additional filtering process to the clean air before it's returned to the facility where your employees are working.
Help you meet compliance regulations: Poor air quality can cost you heavily, not just in fines, but by creating potential hazards that can damage your factory or affect your employees. Dust collectors help you to comply with governmental regulations as well as keep everyone (and everything) inside the building safe.
Improve employee retention and happiness: Dust collectors provide your staff with clean air, resulting in a safe and more desirable working environment. Keeping the air clean and healthy with a dust collector improves the morale of your employees, allowing you to retain staff. Employers who invest in the well-being of their employees — and keep cold air out — will be rewarded with employees who are much more likely to stay.
Reduce equipment maintenance: When dirt, dust and debris collect on machines or equipment, they can work their way inside and interfere with the mechanics of the equipment. This can lead to slower machines and broken equipment. Compromised machinery constantly needs attention and repairs. Dust collectors remove this risk, allowing your machinery to keep functioning properly and also help increase productivity.
Provide ongoing value: Once you have a dust collector, its benefits can be felt through continued performance, making your shop a better place to work. If you don't buy a dust collector, you're going to be paying for it in the long run, whether it's training new employees, replacing equipment or other areas of business loss.
Learn the four warning signs that indicate when there's a need for an industrial dust collection system.
Winterizing Your Outdoor Dust Collector
When placing a dust collector outside in a cold-weather climate, it's important to consider the challenges that changing seasons can cause for outdoor dust collector operations. Here are a few examples of winter conditions that affect dust collection systems and how you can deal with them:
Ice Crystals
For pulse-jet dust collectors, cold weather will reduce the temperature in the valves and associated tubing. If the temperature drops below the rated dew point of the compressed air, ice crystals can form in the valves and tubing that will prevent the pulse cleaning system from functioning properly, reducing the life of your filters.
Pro Tip: We recommend a desiccant dryer dedicated for the dust collector. We find this is the best solution in the winter months. You can also protect solenoid valves by installing a solenoid-valve heater.
Fan Performance
Cold air is heavier and requires more horsepower to move it. Most industrial dust control fans are designed for operating conditions that are at or above 70 degrees Fahrenheit. When you start up the fan in colder temperatures, it may draw more amperage than the motor starter can handle, causing the motor to trip out. This is often mistaken as a fan problem when it is more a weather-related system operation problem.
Pro Tip: For motor start up we recommend a soft start or VFD, especially on fans larger than 30 hp. This allows the motors to ramp up to full speed slowly, reducing motor load. Closing an outlet damper can affect motor draw depending where it is running on the fan curve.
Ready-to-Ship Dust Collectors for Your Application
A.C.T. Dust Collectors understands the challenges businesses like yours face and what it takes to keep your environment safe and healthy. We will help you learn everything you need to know about choosing the right dust collection system for your facility. Our engineering team offers solutions for all dust collection needs, and our expert-level team will walk you through purchasing a dust collector for your specific application.
Have an immediate dust collection need? Our stocking program allows us to ship a wide variety of dust collectors within days in many situations. No need to wait for long lead times when we can pull units off of our shelves and ship in no time. Contact us today to get started!