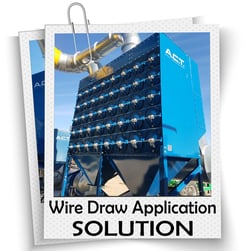 Recently, a manager at a premier wire manufacturing plant in South Carolina reached out to the staff at A.C.T. Dust Collectors. He was in need of a large industrial dust collection system to replace a smaller unit due to increases in production.
Within a week of reaching out to A.C.T. Dust Collectors, our territory manager visited the facility to do a walkthrough. He reviewed the wire draw application and learned more about the dust collection need. Wire drawing is a metalworking process used to reduce the cross-section of a wire by pulling the wire through drawing dies to shape it. This particular application is often used to make grocery carts.
Upon returning to the office, the sales team worked together to prepare a quote to suit the needs of the customer's application. They wanted to be sure that the system installed would have sufficient capacity. The team recommended an ACT 5-80 cartridge dust collection unit to resolve the industrial dust collection problem.
A.C.T. Dust Collectors soon learned that two other dust collector manufacturers were quoting the same job. Some of the quotes were $20,000 less. This raised concern, and the territory manager decided to schedule another visit to discuss the quotes. In the meeting, he helped the customer see that the other manufacturers were quoting much smaller units, which had inadequate capacity. The customer was impressed with the benefits our metalworking dust collector offered, including more airflow and a low air-to-media ratio.
Air-to-media ratio is the amount of air going through one square foot of filter media. Having a lower air-to-media ratio allows the media to handle the dust load better and lowers the pressure, making the filters easier to clean.
After reviewing all of the options, the wire manufacturing plant decided to go with the ACT 5-80 cartridge dust collection unit, which was installed and ducted directly to the wire draw machine. The facility manager at the company stated that he is happy with how the industrial dust collection system is working.
A.C.T. dust collectors are installed all over North America in many applications. We have the knowledge and skills required to help you resolve the dust problem at your facility the quickest and most efficient way possible. Contact us today!