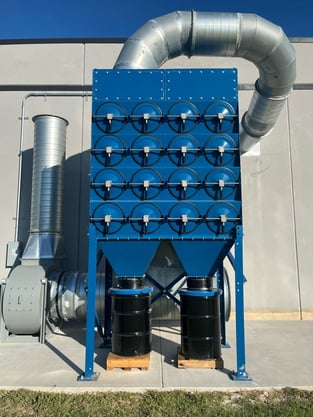 Increased production over the last few years lead one Texas customer to purchase multiple units and more recently upgrade to a central system. They reached out to A.C.T. Dust Collectors for the solution with each growth spurt.
Texas Nameplate, a 76-year-old family company, has seen its fair share of transformation and growth during its impressive history. President of Texas Nameplate, Dan Crownover's grandfather returned from WW2 and began riding a bike delivery route for a stamp company. He worked for the stamp company until he was able to purchase it in the 1960's and it is still a family-owned company.
From its humble beginnings to the massive production facility today, Texas Nameplate now ships an estimated 25,000 nameplates per day ranging from metal, stainless steel, aluminum, and brass to lexan, poly stickers and vinyls. The processes include stamping and laser cutting, although over the last 5 years laser cutting has become the prominent production process within their facility, even forcing them to build their new facility as they grew.
"Five years ago, we didn't have laser production lines, we met with the IPG team and that was the start of our transition. We bought one laser with a LaserPack 6 attached and got rid of two stamp units." said Crownover. "We had three lasers with LaserPacks because at least half of our work is cut on a laser."
A.C.T. Dust Collectors Territory Manager, Tony House has a great partnership with IPG to offer a combo laser/LaserPack to their customers. Laser cutting creates metal dust like baby powder and smoke within a facility and must be collected. Texas Nameplate recognized this with each laser purchase. As they accumulated one laser at a time with an accompanying LaserPack 6, they started to outgrow the facility footprint as well as the electricity requirements for all their machinery.
Texas Nameplate built their own facility with growth in mind, mapping out a laser production line with four or five lasers. But they were faced with the dilemma – order another combo or explore the idea of a central system.
THE FACTORS THAT LEAD TO THEIR DECISION
Floorspace and growth: while they had the floorspace for four Laser/LaserPack combos, if they transitioned to a central system, they would have the floor space for up to six lasers in the future.


Noise level: At the rate they were using the Laser/LaserPack combos, running all three at the same time, the noise level inside the facility was very loud. Placing a larger cartridge collector outside moved some of that noise outside.


Environmental impact: Recycling their materials and reducing the environmental impact of their business was very important to Texas Nameplate, therefore when deciding to duct their metal dust outside or to filter it, they chose to collect and dispose.


Simplicity with the transition: A major concern for Texas Nameplate was what to do with their LaserPack units if the lasers at the new facility were ducted to a central system. That was viewed as a burden. A.C.T. Dust Collectors offered to buy back the LaserPacks. Crownover said "Getting rid of a single unit, sure, but three? That was a burden I was not looking forward to. Tony offered us a fair price and the convenience factor. It is a win-win for everybody. A.C.T. is standing behind their products and offers excellent customer service"
Who Were they going to call
"It was a no-brainer to call A.C.T. Dust Collectors. We had excellent customer service when we bought those three LaserPacks, and they ran a lot and never had a single issue. Never a part or motor run out and they ran perfect the entire time we had them. We push and promote Made in America, and your collectors are made in Minnesota. We were 95% in and then Tony came down to look at our facility equipment and discussed how we could grow. Tony got us the quote the next day and sent our PO back the same day." Crownover said.
other benefits of the transition
Texas Nameplate purchased an ACT 4-32 Cartridge Collector that was installed recently and have discovered more benefits than the initial proposal. Their cartridge collector is only running at 30% capacity for the three lasers on their floor and could easily handle the fourth laser that they have on order as well as a possible fifth and sixth in the future. "Before we unplugged the LaserPacks we did some electricity studies." Crownover said. "We have found that when all three lasers with the LaserPacks were running versus the new cartridge collector; we are averaging 150 amps less with the single central system. Our electricity consumption will reduce daily with this transition and giving us a cost savings on our electricity bill." And the cleaning process has proven to be a simpler task for their team, instead of vacuuming out the dust drawers on a LaserPack, they collect the dust in a 55-gallon drum and easily dump them when they are full.
Another benefit that was discovered with the change was on Texas Nameplate's screen-printing line. While the LaserPack 6 units did a good job of dust collection in the building, they were still in a confined space and particles could escape the cleaning process. Having dust around wet ink caused application issues in the screen printing. Crownover commented that is "definitely not an issue now that the dust collection unit is outside."
NEED A DUST SOLUTION?
A.C.T. Dust Collectors are installed all over North America in many applications. Our experts have the knowledge and skills required to help you resolve the dust problem at your facility the most quick and efficient way. Contact us today to discuss industrial dust collection for your application!