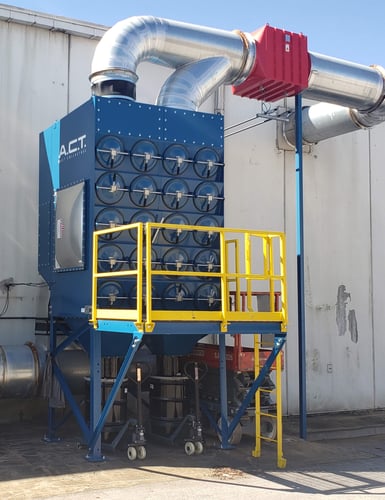 Food Processing Dust Collectors
A.C.T. Dust Collectors was called in to evaluate the dust collection needs of a large manufacturer of popular snack foods. Their food processing application created dust from ingredients such as sugar and flour which has to be collected for the safety of the employees. This is especially important in the mixing process as sugar dust can be explosive.
The customer had a two-part problem with their old food processing dust collector. Firstly, the dust collection system was beginning to fail and secondly it did not comply with current NFPA regulations regarding explosion protection equipment.
After our Territory Manager, Tony House, went in for a site visit he concluded the best option was to quote an ACT 5-40. Tony was confident this system would provide the solution to both problems the customer was facing.
A.C.T. Dust Collectors was not only competitively priced but offered the quality the customer was looking for. We provided the ACT 5-40 with two explosion rated drum kits, an explosion vent and an explosion isolation valve. The ACT 5-40 with a 75HP fan rated for 18,500 CFM and controlled by a VFD also included a filter access platform for easy filter change outs.
The ACT 5-40 was installed without interrupting production of their delicious, little snacks and the customer is currently very happy with the system. A.C.T. Dust Collectors is in the process of quoting another unit for another one of their snack lines.
A.C.T. Dust Collectors are installed all over North America in many applications. Our experts have the knowledge and skills required to help you resolve the dust problem at your facility the most quick and efficient way. Find the right dust collection solution for your food processing application.
(763) 557-7162 | info@actdustcollectors.com