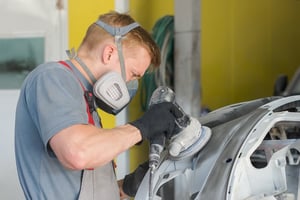 Nearly every metalworking operation requires some form of dust collection system. When metal particles from welding, laser, grinding and other metalworking operations become airborne, metal dust becomes a hazard.
Metalworking equipment tends to throw this dust around quite frequently. In this blog, we'll discuss three strategies to minimize the nuisance of metalworking dust.
1. Industrial Dust Collection System for Ambient Air
Ambient air is defined as the atmospheric air in its natural state. It can be difficult to collect fume and dust particles from ambient air. Ambient air applications require a dust collection system that can clean the air in a vast area, unlike source capture applications where the air is confined to a small area.
To filter the ambient air properly, the air volume needed is calculated based on the volume of the area to be cleaned. The air volume calculations are then used to determine the size of the system needed.
With an industrial dust collector in place, you will see a positive difference in productivity, better product quality and happier employees. Additionally, dust collection systems can help you comply with regulations. It's typically recommended to use a cartridge dust collector, though it can be a case-by-case situation.
Industrial dust collection systems from A.C.T. Dust Collectors have been installed in numerous laser, welding, and other metalworking operations, capturing 99.99% of particulate from the air.
Find the right metalworking industrial dust collector for your facility with the Interactive Machine Match.
2. Washing Facilities at Work so Dust Is Not Taken Home
Exposure to excessive amounts of metal dust can affect the eyes, nose and throat. Worker protection involves personal protective equipment (PPE). PPE for welding, laser, grinding and other metalworking operations include protective clothing, dust masks, safety glasses, respirators or other equipment designed to protect one's body.
Many standards require employers to provide PPE when it's necessary to protect employees. Furthermore, if PPE is to be used, a PPE program should be implemented that discusses the:
Hazards present
Selection of PPE
Maintenance of PPE
Training of employees
Additionally, employers can help protect workers from take-home metal dust exposure by providing adequate on-site washing facilities, disposal and locations for workers to change out of contaminated clothes to help ensure metal dust is not taken home.
3. On-Tool Extraction/Booth Dust Collection Systems
Another strategy to minimize the nuisance of metal dust is to use on-tool extraction on saws and grinders to control metal dust at the source. On-tool extraction is an effective and efficient local exhaust ventilation (LEV) system that fits directly onto the tool.
You can also clear the air with an ACTion Booth dust collector. Used in many metalworking applications, this versatile system features a multifunction design that can meet your workplace needs and cubic feet per minute (CFM) requirements.
The ACTion Booth comes with a 7.5 HP blower motor that is capable of 5,400 CFM, and with space at a premium, this system can be serviced from the front and top, allowing installation against walls on the back or sides.
Watch the demo to learn what makes the ACTion Booth an effective dust collection solution.
Need an Industrial Dust Collector?
A.C.T. Dust Collectors offers solutions for all dust collection needs and will assist in choosing the right laser dust collector, welding dust collector or grinding dust collector for minimizing metal dust hazards, whether it's your first dust collector or an upgrade to a current system. Contact us today to get started.