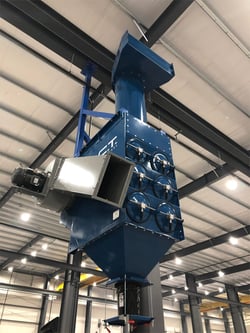 A successful work environment is not only achieved through high-quality performance but even more importantly — through high-quality working conditions. For those industries that produce dust and other dirty and unwanted particulates, from metalworking to sandblasting and more, the output that results from the manufacturing process can be harmful to employees if not properly filtered and removed from the air.
At A.C.T. Dust Collectors, we provide industrial dust collectors fit for your specific business that eliminate this worry and other risks altogether. Learn the best practices for managing and controlling dust in your manufacturing facility from our experts below.
Who needs an industrial dust collector and when should you start using it?
We recommend that any manufacturer that has employees working hands-on for many hours with potentially harmful particulate use at least some form of dust management system. This doesn't always mean an industrial dust collector. In fact, that depends on the size of your manufacturing facility and the amount of particulate you're producing.
Any time large quantities of dust, smoke, fumes or odors are present — whether the material is toxic or not — there should always be some sort of ventilation or filtration to manage airflow and the overall working environment. If you work in any of the following industries or handle any of the following mediums, your manufacturing facility will greatly benefit from a dust collection system:
Stainless steel
Aluminum
Plastics
Sandblasting – the crystal and silica makeup can severely damage lungs
Welding – especially plated or galvanized materials like chrome
Organic materials that can cause airborne mold or fungus
Petroleum-based products or other flammables
As a rule of thumb, we say that if there's at least enough particulate in the air to change the color of surfaces in your workplace, you need to manage your dust output immediately with personal protective equipment (PPE) to start. Then, depending on the quantity of particulate and how effective the simplest cleaning measures are, you may want to move on to a more efficient machine for collecting and controlling that dust.
What are the risks of not managing dust?
If your facility chooses not to properly manage or clean the harmful particulate, you run the risk of employees developing health conditions and/or being unhappy in the workplace, therefore creating more turnover for your organization. You're also risking citations from OSHA, which can be quite costly to your bottom line and your company's reputation.
Other hazards to consider are that some types of dust are combustible or fugitive, meaning if not cleaned properly, they can cause a fire or explosion.
It's critical to manage your dust to avoid these negative outcomes from taking place. Here are three different ways for you to approach the situation.
Three ways you can manage dust in your manufacturing facility
1. Housekeeping
This is a general way of saying simple workplace cleaning regulations should be in place and visible throughout the facility and that regular cleaning, before and after every shift, should be done. This includes sweeping and wiping down surfaces and machinery, which is standard across most facilities. Housekeeping also includes wearing PPE, such as N-95 masks, safety glasses, earplugs, etc. Without at least some basic form of cleaning and protection, your dust will become unmanageable and dangerous.
2. Ventilation
If it's possible and safe for your facility to blow the harmful particulate outside of your facility and into the outdoors, then ventilation is a helpful solution. Ventilation systems can be wall mounted or inline ducted, but it's important to consider the composition of your output. You may be keeping your employees safer by ventilating the air out, but if the surrounding environment is harmed, you could also run the risk of facing lawsuits from the community.
3. Industrial filtration systems
The more particulate, the more you will benefit from an industrial dust collection system. There are several benefits to installing an A.C.T. industrial dust collector. Our systems are designed to capture the particulate at the source, handle many applications and work at top efficiency to combat your dust collection needs. If you're worried about blowing particulate outside of your building, an A.C.T. system can be installed to recycle and clean the airflow of particulate that remains indoors. Check out our selection of dust collectors, from cartridge to baghouse, as well as our filters to see how your applications can become safer and more streamlined.
To summarize, poor management of your dust will result in negative outcomes. If your application is producing enough particulate, your facility should always be cleaning floors and surfaces before and after every shift. And if you're starting to notice that simple cleaning methods aren't getting the job done, request a quote and consult with an expert on our team. We'll be able to assess your output and recommend the best and most cost-effective system for managing your dust.