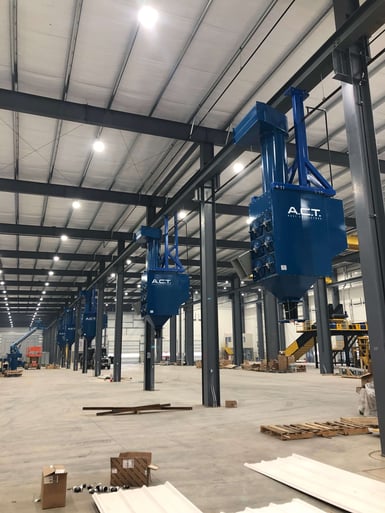 A major mid-western based industrial shredder manufacturer recently invited one of A.C.T.'s dealers, Industrial Air Solution Inc., to design and supply a complete dust collection system for their new facility. The dealer researched the project and was confident they could provide a solution with the help of A.C.T. Dust Collectors, even though it seemed to be a demanding application with multiple challenges.
Dust Collectors for every application
The application was for weld smoke and fume collection off multiple process. It became clear that the three major challenges in this application were:
Lack of floor space
Use of overhead cranes
Welders performing work on extremely large components
Once these obstacles were identified the team worked together and ruled out the use of source capturing and weld booths to collect the smoke and fume.
Custom dust collecting solution found
Eventually, it was determined that the solution was to create a unique circulatory controlled air pattern to move and capture the airborne smoke that stratified from each process. With the help of the A.C.T. Dust Collectors engineers, they custom designed a ceiling mounted ACT 3-12 with a unique extended reach intake on the topside of the collector as well as a 5-gallon pail pack. Each intake was made with backdraft louvers to prevent dust migrating from the collector to the facility during the down-time clean.
The team had to come up with a plan of where to put the fan as typically on an ACT 3-12 the fan is mounted on top. Because this was not an option on this custom design, a horizontally discharged side-mount fan was supplied.
To ensure all the fume and smoke was collected, each dust collection system was staggered across from the other to further distribute maximized coverage.
Each custom A.C.T. 3-12 was equipped with:
Nano-Elite, Nano Fiber Filters (2.95:1 air-to-cloth ratio)
Reverse-Pulse filter cleaning system
Collector body fitted with column-mount brackets
Custom hopper-bottom design with integral 5-gallon Dust Catch
Custom holding platform for 5-gallon Dust Catch with Quick-Release Clamps
Direct side-mount 20 HP fan and noise silencer (adjustable vane outlets by contractor)
Pulse control timer board (the customer supplied their own control station and VFD's)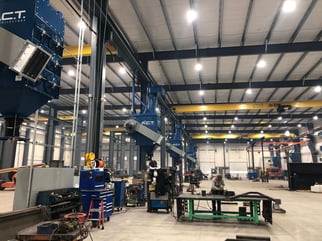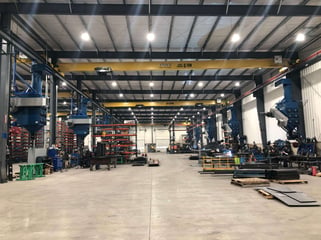 With this custom design, we were able to circulate the air so that it was most effectively collected by The ACT Dust Collector…or something like that.. The customer agreed it was a great solution to their dust collection need while accommodating the associated challenges.
These systems have been installed at the new facility and are working well. They have been fully commissioned by A.C.T. Dust Collectors on site in January 2020 and has been completely operational since the startup date.
A.C.T. Dust Collectors are installed all over North America in many applications. This team of experts has the knowledge and skills required to help you resolve the dust problem at your facility the most quick and efficient way. Find the right dust collection solution for your application.