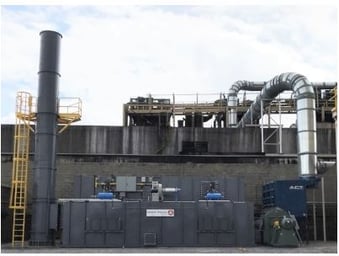 An international tire manufacturer was experiencing poor air quality. This company has a process where they form rubber so that it can be used to make tires. At a certain point in this process, compounds and odor were being released into the air. The manufacturer knew they had to do something to improve the air quality and reduce the emissions being released.
At first, the manufacturer thought a used dust collection system would be the best solution. They were not convinced this was the best choice. They soon learned about A.C.T. Dust Collectors and asked our opinion. Upon research of the rubber application, the team at A.C.T. Dust Collectors worked to come up with the best recommendation.
Our team was told that the dust collection system was going to be placed prior to a regenerative Thermal Oxidizer which removes Volatile Organic Compounds (VOCs) and odor. They said the system needed to efficiently capture particulate from the airstream before entering the oxidizer. With this information, our team could determine a cartridge dust collector would be best for this application. Once they had researched the amount of capacity needed, our team recommended an ACT4-48 cartridge dust collector.
The tire manufacturer then selected this A.C.T. unit to be engineered into a comprehensive pollution control system for the process. Our team reassured them that our Nano-Elite MERV 15 cartridge filters would effectively capture the particulate.
The system was installed outside of the facility and we heard reports of it running smoothly. The system integrated well into the process and boosted the air quality in the facility.
ACT Dust Collectors are installed all over North America in many applications. Our experts have the knowledge and skills required to help you resolve the dust problem at your facility the most quick and efficient way. Contact Us Today!