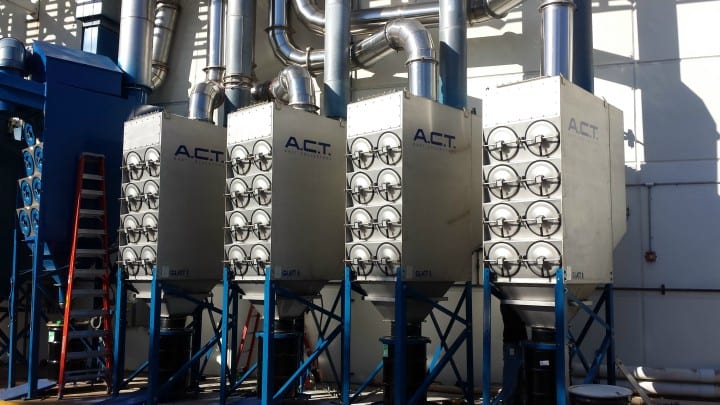 A large company in the pharmaceutical industry, needed 4 units for use on a fluidized tablet coating bed. The process created small fine dust within the air and on all equipment. The A.C.T. Dust Collector Cartridge Series collectors are suited for applications such as fluid bed dryers, tablet presses, tablet coating, and spray dryers.
THE PROPEr TYPE OF DUST COLLECTOR
Stainless Steel Dust Collectors are sought after in pharmaceutical operations for applications where corrosion is a concern . A.C.T. has stainless steel collectors currently in the field with great success for high efficiency filtration in pharmaceutical manufacturing.
SIZING UP THE SITUATION
When they discovered the customer service, price and quality associated with A.C.T. Dust Collectors, their decision was made. The customer purchased four ACT model 4-16 dust collectors, all stainless – each offering over 4,000 square foot of media each.
THE SOLUTION
The systems have been in use for several months and the customer is very pleased with them. In fact, they like them so much they have ordered a new tablet coating bed and insisted that the tablet coating bed come with an A.C.T. Dust Collector.