A local Minnesota company contacted ACT Dust Collectors with a need to filter the air from a laser cutting table.
The Board of Laser Safety explained how, during the cutting process, high temperatures cause the surrounding air to expand. Once materials are being treated by the laser beam, they'll emit gases that rapidly expand and release dangerous particles. The particles generated during the laser cutting process form a fume cloud comprised of very fine dust particles that can harm workers and the equipment.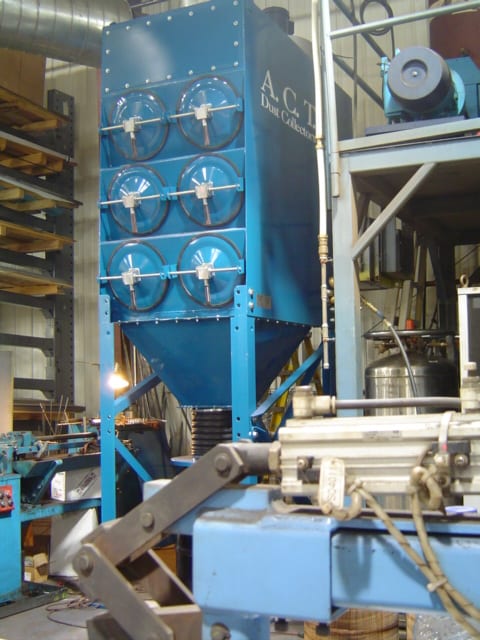 Because of these toxic fumes, work sites need to follow ventilation requirements and should be equipped with the appropriate filtration systems. A.C.T. Dust Collectors can be placed indoors or outdoors based on the layout of the facility and the type of dust being collected. Since the laser cutting table was located in a room in the middle of a facility, placing the dust collector outside would have required a long duct run with a lot of obstacles and a large price tag. After evaluating the facility, there was a tight space available near the table where they could squeeze the right dust collector in. The compact foot print and top mounted motor/blower made the ACT 3-12 dust collector a perfect fit. The ACT 3-12 only utilized a little over 3 ft. in width.
Numerous industries utilize laser cutting in their processes. While cutting metal is the most common, laser cutting technology is now applied to a wide variety of materials. The A.C.T. Dust Collectors Team recognizes the importance of getting the right dust collector, but that's just the beginning. Finding the right spot, ideal proximity, best use of space and most efficient design are what make the project truly outstanding.