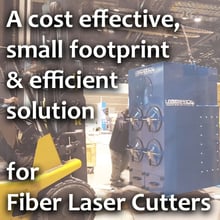 Recently, a manufacturer purchased a fiber laser cutting table. The manufacturer was concerned as to how they could best collect the dust. They knew if the dust and fumes were not collected properly, the fiber laser cutting process could be affected. They reached out to the team at A.C.T. Dust Collectors for a dust collection answer to prevent the costly cutting process from failing and to prevent equipment breakdown from dust build up. A.C.T. Dust Collectors was proud to offer their A.C.T. LaserPack dust collector.
When the manufacturer learned about the A.C.T. LaserPack with its integrated spark trap, enclosed fan, prewired controls and remote start feature, they knew they had finally found the best option. This complete dust collector came in a plug-n-play package. Simply connect the duct, compressed air for the filter cleaning and power. Since the installation of the A.C.T. LaserPack dust collector, their fiber laser cutter has been running smoothly and without any issues.
A.C.T. Dust Collectors are installed all over North America in many applications. Our experts have the knowledge and skills required to help you resolve the dust problem at your facility the most quick and efficient way. Contact Us Today!