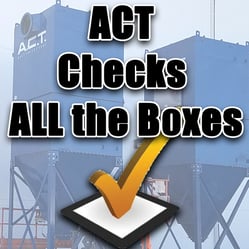 A few months ago, a specialty grain milling facility reached out to us looking for help with their dust collection need for a newly expanded facility in Illinois. Due to time constraints, they were looking for a solution that did not have a long lead time. Known for carefully selecting their grain, they wanted the same care in choosing quality dust collection equipment for the high dust load that would be produced. The team at A.C.T. Dust Collectors discussed the application and suggested that two 10,000 cfm baghouse dust collection systems be installed.
In a matter of days, the two A.C.T. TLM 81-10 baghouse units were ready for shipment. Complete with explosion protection and specialty bag filters, these systems were connected to keep up with the rapidly expanding purveyor of quality food ingredients. The team at the grain milling facility is very satisfied with how the units are operating.
Having the brand new baghouses and blowers in stock and ready to ship for immediate installation became a critical factor in the decision to purchase from A.C.T. Dust Collectors. When both quality and lead time are important, A.C.T. Dust Collectors measures above the rest with dust collection systems in stock.
A.C.T. Dust Collectors are installed all over North America in many applications. Our experts have the knowledge and skills required to help you resolve the dust problem at your facility in the most quick and efficient way. Contact Us Today!