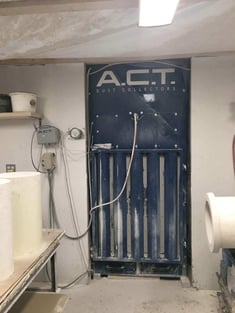 A national manufacturer of refractory products in New Jersey needed a dust collection system. Refractory materials are used in furnaces, kilns, ovens and other high temperature objects as refractories are resistant to heat. The specific dust collection application was for dust from a material used to put a finish on their products built with refractory materials. The finishing substance has a consistency of plaster and has to be grinded and sanded to create a smooth surface.
This company reached out to A.C.T. Dust Collectors through a local dealer. The team at A.C.T. worked with the customer and the dealer to come up with the best solutions to this dust collecting problem. The dust being collected from the pneumatic grinders and hand sanding was a fine powder. Upon reviewing the size of the area where dust was being produced and the type of dust, our team recommended two ACTion Booth Power Modules to service two 8' x 8' grinding booths.
The manufacturer decided to proceed with the purchase of the units. They knew these systems would take care of the dust in their industrial environment. Once the two power modules were installed, they found that each of the units had enough power to service a 16' x 8' high booth. The customer was very happy with this result!
The ACTion Booth Power Module is one of the most versatile systems for industrial air filtration. The heavy-duty construction with multi-function design made this unit a great fit for this application. The team at A.C.T.'s expertise coupled with the extensive knowledge of our local dealer made it possible for A.C.T. Dust Collectors and its partner to offer a compliant solution that provided all the airflow and performance that was required.
Contact us today to discuss dust collection for your application! info@actdustcollectors.com