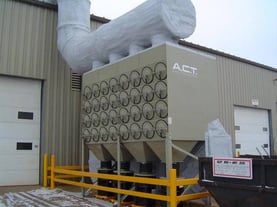 Adding a dust collector to your facility may be one of the best investments you can make. Industrial dust collectors:
Improve shop safety and cleanliness
Help you meet compliance regulations
Improve employee retention and happiness
Reduce equipment maintenance
Provide ongoing value
They're also a big money saver when you consider the advantages of how a quality dust collector affects your company's bottom line. As we approach the final stretch of 2021, now is a good time to purchase a dust collector for your specific application. Here are three reasons why:
1. Save on Your Taxes
If you've been contemplating purchasing capital equipment, like a dust collector, make the purchase before December 31. The Internal Revenue Service (IRS) has a provision for capital equipment and asset purchases referred to as Section 179.
Section 179 of the U.S. Internal Revenue Code (IRC) is an immediate expense deduction that business owners can take for purchases of depreciable business equipment rather than capitalizing and depreciating the asset over a period of time. This deduction can be taken if the piece of equipment is purchased or financed and the full amount of the purchase price is eligible for the deduction.
Section 179 Key Takeaways
Allows businesses to take an immediate deduction for business expenses related to depreciable assets such as equipment
Allows businesses to lower their current-year tax liability instead of capitalizing an asset and depreciating it over time in future tax years
Limited to a maximum deduction of $1,050,000 and a value of property purchased to $2,620,000 for the year 2021
2. Gain Access to Excess Inventory
At A.C.T. Dust Collectors, we try to keep as many dust collection systems on our floor as we can, and have ramped up inventory for the end of the year. Our inventory levels are so that we always keep backfilling it. When we get down to five systems, we order five more.
Do you have a laser or plasma cutting table being delivered this year but can't get a dust collector until January or February? Get one from us fast!
We have our most common sizes of dust collectors (brand new) in stock and ready to ship within three days of purchase. In the world of new dust collectors, typical lead time for other companies is 8-16 weeks. We also stock OEM replacement dust collection filters and top-mounted blowers from 5HP to 40HP.
3. Stay Safe and Healthy During Winter
The summer months provide ideal weather conditions to allow windows and doors to remain open to help with ventilation in your fabrication shop. However, as warm outside temperatures fall and winter approaches, you will need to close the windows and doors, thus stopping the natural airflow you enjoyed when the weather was ideal.
Installing a dust collector, with a return air system, can be a great solution to maintain your shop's comfortable indoor temperature and provide a safe and clean working environment for your employees.
An economical way to improve the overall air quality in your facility while saving energy costs all winter long (Winterize Your Facility and Outdoor Industrial Dust Collector to Improve Indoor Air Quality This Season) is with an industrial dust collector.
Solutions for All of Your Industrial Dust Collection Needs
We understand the challenges businesses like yours face and what it takes to keep your environment safe and healthy. Our team will help you learn everything you need to know about choosing the right dust collection system for your facility, from:
Why the size of the dust collector matters
Installation requirements for different systems
Functionalities of different systems
As a consultative partner, we're available to talk about site visits (new or existing) to ensure all things are being thought through on the front end so that it's not a costly afterthought.
In a facility visit — whether new or existing — our team looks at the size of your space and assists with application questions, drawings, layout and product customization so that the correct system is recommended for your application. This process saves you time because we get to review every detail and make sure it's done right the first time.
Before we say goodbye to 2021, consider investing in a quality dust collection system that can protect your employees, your equipment and your materials. Contact us today to discuss your dust collection needs.