Having challenges with your current industrial dust collector manufacturer's long lead times? Are you running into quality and customer service issues? Are you consistently dealing with other challenges the vendor's unable to resolve? Whatever the case, it may be time to look for a new partner.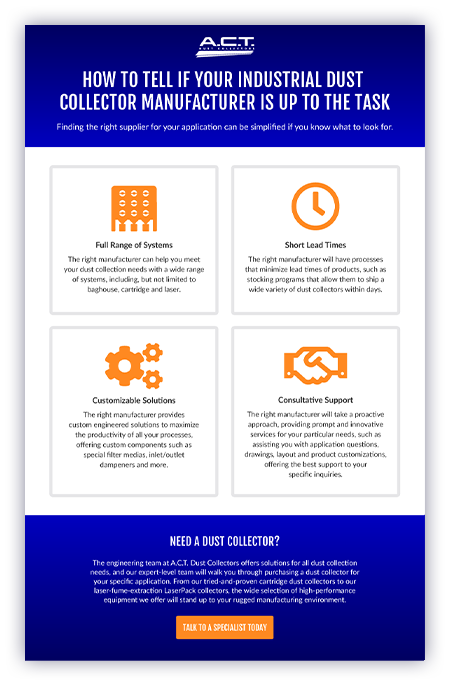 But where do you start? How can you tell if the dust collector manufacturer you're looking for:
Will always have the number of high-performance industrial dust collectors you need to consistently meet your air filtration needs?
Can support you with in-depth technical expertise and factory support?
The right dust collector supplier will offer a range of systems and industrial dust collector parts that will help keep your operation safe and compliant.
In this blog, we'll discuss what you should consider before choosing a dust collector manufacturer to make sure they're up to the task.
Equipment
Look for an industrial dust collector manufacturer that can help you meet your dust collection needs with a wide variety of systems, including:
Baghouse dust collectors: Baghouse dust collectors are most effective when the particulate is larger and the loading is extreme, like in woodworking applications.

Cartridge dust collectors: Cartridge dust collectors have become the go-to for general filtration needs for a variety of reasons, including efficiency and size.

Booth dust collectors: Booth dust collectors are versatile and can be used in a wide range of applications. When space is limited, booth dust collectors can be serviced from the front and top, allowing installation against walls on the back or sides.
Industrial Dust Collector Parts
In addition to dust collectors, find a supplier that understands how hectic your schedule can be and offers parts that are tested and approved to help keep your systems and machinery running efficiently with little to no interruptions.
The filters in A.C.T. Dust Collectors' systems oftentimes match what you already have in your other dust collection systems, allowing for easy sourcing and change out.
Click here for a few industrial dust collector parts that will improve performance and extend the life of your collector.
Lead Time
Have an immediate dust collection need? Quality partners will have processes that minimize lead times of products, such as stocking programs that allow them to ship a wide range of dust collectors within days. You shouldn't have to wait for long lead times when the right manufacturer can pull units off the shelves and put them onto the truck.
Customization
Some applications require custom systems. You need an industrial dust collector manufacturer with the engineering expertise and experience to design and build a custom dust collector. Look for a manufacturer that, no matter the circumstances, provides custom engineered solutions to maximize the productivity of all processes.
The right manufacturer will provide many custom components, including:
Shortened or extended legs to fit your height requirements
Stainless steel construction
Inlet/hopper design to suit your install location and discharge method
Learn how A.C.T. Dust Collectors helped design an industrial environment dust collection solutions for a manufacturer of refractory products that produces dust during its finishing operations.
Consultative Support
It's also important that your industrial dust collector manufacturer has a dedicated staff for consultative support that can help you determine the best system for your application. Make sure they take a proactive approach, providing prompt and innovative services for your particular needs, such as assisting you with application questions, drawings, layout and product customizations, offering the best support to your specific inquiries.
At A.C.T. Dust Collectors, we encourage you to call. Someone is always available to pick up the phone to help you get the answers you need.
Proven Industrial Dust Collectors & Solutions
With A.C.T. Dust Collectors as your partner, you can expect to find the high-quality, reliable industrial dust collector you need — with ease — when you need it. That's because we offer solutions for all dust collection needs, and our expert-level team will walk you through purchasing a dust collector for your specific application. If you're interested, request a quote today.