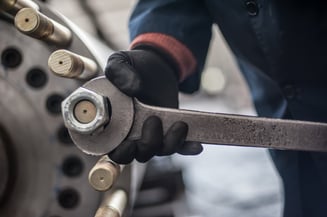 Customers and end-users are always looking for the same thing when it comes to the installation of their industry equipment: quality. Quality of equipment, service and installation are key factors in customer satisfaction and the overall success of your industrial equipment installation business.
Put simply, installers and dealers who bring the most value to their customers will find the most success, earn loyalty and make a name for themselves across their respective industries. What can you, as an industrial equipment dealer, bring to the table to ensure your business isn't just running effectively, but thriving? We offer our best tips below.
How Industrial Equipment Dealers and Installers Can Provide Value to Customers
No matter your industry, proper installation of industrial equipment plays an important role for all parties involved. An improperly installed system can impact the performance of the machine, in our case, dust collectors, and affect both the customer and the dealer company's bottom lines.
Try putting yourself in the position of the customer for a moment. What would you want from your industrial equipment dealer? We've discovered that customers most want turnkey installers who:
Make the installation process seamless and easy to understand
Make themselves available whenever a customer is in need of troubleshooting or any other product assistance
Can be a jack of all trades and have a basic understanding of electrical work, plumbing and mechanical engineering. Oftentimes, these are general contractors who can solve problems for customers without having to go back to the manufacturer for assistance.
Are organized and can multi-task
Are effective communicators
Can act as a middleman between manufacturer and customer
Now that you understand what customers want from their dealers, it's time to put some actionable steps in place to develop and maintain positive customer relationships. At the end of the day, strong customer relationships are the foundation for thriving industrial equipment installation businesses.
1. Do your research.
Gather all the information you need from your customer to effectively proceed with product purchasing and installation. Encourage your customer to ask questions and walk them through what the entire process will look like. By taking their needs and wants into consideration, you'll be able to recommend the right-sized system and best-suited piece of equipment. This is where loyalty is built. Following your research of the customer's needs, make sure you also thoroughly research their equipment options. This includes everything from the manufacturer such as its capabilities, price, size and comparisons to other machines. The more you know, the more comfortable your customer will feel pursuing a relationship with your installation business.
2. Communicate clearly.
When questions, supply and delivery concerns or troubleshooting needs arise, all a customer wants is to be able to reach their installer quickly and to get the problem solved as soon as possible. Make your availability known to the customer before proceeding with the relationship and always be prepared with a handy guidebook/resources for the equipment you've installed if you need to walk them through the troubleshooting process. Customers value transparency. Don't beat around the bush when it comes to equipment lead times. Always be honest and offer the pros and cons of alternative solutions. For equipment issues outside your area of expertise, knowing who to refer your customer to is also important.
3. Network and partner with local contractors who have different specialties.
As a dealer, you may be an expert on specific machines and have basic knowledge of electric, plumbing and mechanical work, but sometimes issues will arise that are outside your area of expertise. We always encourage our dealers to join local contracting organizations and get involved with engineering firms to network with other specialized professionals. Creating relationships with certified plumbers, electricians and engineers can offer flexibility to you and your customers and helps develop a mutualized referral business for the future.
4. Partner with the right manufacturer.
Your service and installation may be top-notch, but if the manufacturer's equipment lacks in quality, the entire process will be doomed from the onset. Dealers should partner with OEMs (original equipment manufacturers) when possible, in order to cut cost, delivery time, installation time and customer service/maintenance team response time. Partnering with the right manufacturer means doing more research about the product. Is it well-built? Is the product readily available to ship? What is the cost of the equipment? How long has this manufacturer been serving its respective industry? Do they offer assistance when dealers aren't able to solve problems on the spot?

Take these questions into consideration before beginning a relationship with a manufacturer and subsequently with a customer. All of these tips should help you get started with running an effective and successful industrial equipment installation business.

At A.C.T. Dust Collectors, we've proven to be the right partner for dealers and installers for over 30 years. Not only do we keep inventory on hand, but we provide in-depth training for all dust collection system applications. Our dealers are always prepared and know they can turn to us for high-quality equipment, cost-effectiveness, guidance and support. The more your manufacturing partner knows, the more equipped you'll be to maintain and develop successful customer relationships.

Are you interested in becoming an A.C.T. dealer? Learn more about our process and how you can grow your business. Apply today