It is not uncommon for people to think their dust collector is not working correctly when the reality is that the duct design is adversely affecting performance.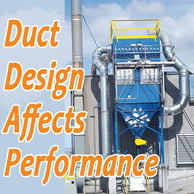 Properly sizing the dust collector for the application is critical, but the proper duct design ultimately determines whether the final installed dust collector meets your needs. Correctly sized equipment and effective duct work design must work in harmony for the system to perform at its best. Many facilities add branches, drops and additional sources to an existing system, changing overall performance of the system. Tight 90° turns as opposed to a longer radius elbows also affect the overall performance. Failure to reduce the duct size as you drop branches off the main trunk will affect your overall performance. Consult one of our dust collection experts to correctly size the duct diameter to handle the correct volume. Fortunately for you, years of experience and technical expertise are readily available. If you are considering a new dust collector or uncertain of your existing dust collectors performance, please contact A.C.T. Dust Collectors. We would be happy to share our experience from thousands of applications to get yours to work correctly. On time. Every time.
Contact the sales team at ACT to discuss your dust collector needs today!