Have you started to notice poor dust collection performance from your industrial dust collection system? The first thing you'll want to check is the dust collector filter. The issue of poor dust collection can usually be addressed and solved once a filter assessment has been conducted. In fact, filter selection is one of the most common reasons for subpar dust collector performance.
There are several reasons why choosing a genuine replacement filter from your dust collection system's manufacturer is preferred over a generic brand filter — especially with an A.C.T. Dust Collectors system. Let's dive into the major benefits below.
Three benefits of using a genuine replacement filter for A.C.T. Dust Collectors
1. Guaranteed FiT and high-quality material
You'll never have to guess if a filter will fit your dust collection system if you use the genuine replacement filter made for your machine. A.C.T. also takes the guessing out of the quality of a replacement filter. With our systems, you'll be getting a high-quality filter that will make your equipment run at its most efficient.

As a general rule of thumb, we recommend replacing filters as soon as the differential pressure goes up, or on a monthly or maintenance schedule. Depending on your application, your filter may need to be changed more or less frequently. Another issue that can come up after a filter change out is leaking around the gaskets, over time the gaskets that seal the door to the filter and the door to the unit can get compressed and do not seal as tight as they need to. This will allow dirty air to bypass the filters and enter the clean air plenum of the dust collector. When changing your filters, it is recommended to buy the gaskets that go on the door to make sure you have a good seal across your filters.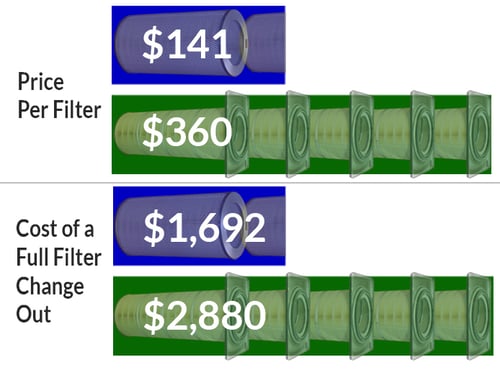 2. Your filter will last longer
It's important to reiterate that by using genuine A.C.T. OEM replacement filters with your A.C.T. Dust Collector, your system will run smoother and its filter life will be longer. We don't install filters that are rated less than a MERV-11, unless specifically requested by a customer due to cost constraints. Although there may be cost savings upfront, customers often find themselves needing to replace the less efficient/off-brand filter more frequently and, therefore, will spend more money in the long run. Remember, the goal of dust collection filters is to improve air quality. Changing out filters with the appropriate replacement is quicker and makes the process of cleaning the air more efficient for a safer working environment.
3. Your dust collection performance will be enhanced overall
By not using a genuine manufacturer replacement filter in your system, you run into potential risks. Some negative outcomes of choosing an off-brand filter are:
Spending more time and money down the road
Safety hazards from improperly fitted filters
Needing maintenance on a product that doesn't come with a manufacturer's warranty
Strain on the dust collector's motor, leading to breakdowns or reduced performance
4. You avoid particulate from bypassing the air filter
A direct benefit of using an A.C.T. OEM filter with an A.C.T. dust collector is that 99.9% of particulate is removed from the airstream. These filters come with a MERV-15 rating, meaning they have higher, more efficient release properties. When we measure the size of your facility, assess your application and calculate square feet of media to determine the size of your A.C.T. dust collector, we also equip you with the filter that will lead the machine to optimum performance. The more square footage of media in the filter, the better it will perform. Proper sizing of systems and filters will lead you to a longer filter life with easier maintenance and troubleshooting if an issue ever arises.
If other issues come into play, A.C.T. Dust Collectors will always provide the best customer service and support. If you need help finding the right filter, changing your filter or finding a local A.C.T. dealer, check out our resources page or contact us today. We are happy to discuss your needs and guide you in the right direction when it comes to filters and dust collection basics.