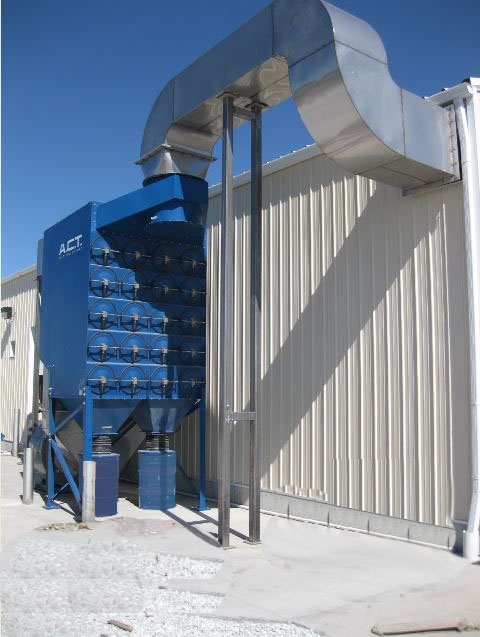 Industrial Dust Collection Systems for Recycling & Scrap Applications
Looking for air pollution control for your recycling and scrap applications? If you are in the recycling industry and that process includes shredding, grinding, cutting or other dust-creating processes, we have dust collection options for you.
From car dismantling to ​metal cutting​ to electronics shredding, A.C.T. Dust Collectors has engineered solutions for dealing with the dust created. We can do the same for your process.
Capturing fume and/or smoke from an outdoor cutting operation? Some of our unique, engineered solutions include roof installations and buildings that move on rails to accommodate the specific processes and needs of our customers.
Our dust collectors have a capacity range of 1,000 CFM (cubic feet per minute) to 75,000 CFM. The downward airflow technology maximizes airflow in the collector to assist dust separation. Regardless of how small or large your capacity needs are, we manufacture an industrial dust collection system​ that will help provide maximum air filtration efficiency. Our dust collectors also have a compact footprint.
Industrial Dust Collecting Done Right
Dust collectors help to keep the air in your surrounding environment clean and safe for everyone involved. ​Dust collectors are important​ for a lot of reasons as they:
Increase productivity
Lead to better product quality
Meet compliance regulations
Improve the morale of your employees
Whatever ​dust collection system​ you need, we will make sure it is designed and built specifically for your recycling process. With us, you can expect lifting lugs engineered to the correct lifting angle, formed doors for maximum rigidity and deep one-piece gaskets to maintain a secure seal. ​Our technicians and quality control teams ensure every dust collector is up to our standards before stamping our serial number on it.
Y​our Source for a High-Quality ​Industrial Dust Collection System
At A.C.T. Dust Collectors, we have the experience, knowledge, and skill to help you quickly and efficiently eliminate dust from your outdoor cutting operations. Our array of standard industrial dust collection systems​ cater to most needs, and some sizes are in stock for quick-ship.
If you are interested in learning more about our dust collection systems — including our cutting smoke dust collectors​ — and the applications​ they're used in or want to speak with one of our team members directly about dust and fume collection for recycling, contact us today.