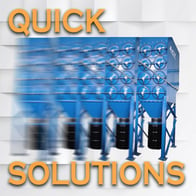 A major automotive parts manufacturer in Michigan had a welding operation making an unacceptable amount of fume/smoke, and needed a fume collection system. Time was critical. They needed a quick solution to get an effective filtration system installed before the end of the month. The operations manager and his team had only two weeks to install the equipment. He was losing hope. Nearly every dust collection system manufacturer has a 6-8 week lead time. Before giving up, he reached out to A.C.T. Dust Collectors to see if they could help.
A.C.T. Dust Collectors had exactly what this company needed – AND it was in stock and ready to ship! The application experts at A.C.T. worked with the operations manager and came up with the ideal fit for the requirement. The ACT3-24 offered the combination of capacity, compact footprint, efficiency and value. Because of our extensive inventory of dust collectors in Minnesota, the ACT3-24 dust collector, motor blower and filter cleaning controls were shipped to the customer with time to spare.
A.C.T. Dust Collectors are installed all over North America in many applications. Our experts have the knowledge and skills required to help you resolve the dust problem at your facility the most quick and efficient way. Contact Us Today!