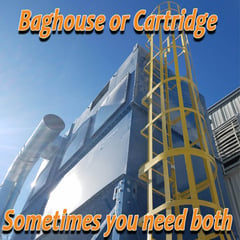 Recently, a manufacturer for roadway paint in North Carolina reached out to us because their dust collection methods were inefficient. The dust they were collecting was the dust from mixing and melting color dies for paints and plastics. They were mixing the materials in what they call "reactors" and had a cartridge dust collector connected to these units. The dust being collector was heavy and a bit tacky. They had to physically clean their cartridge filters weekly due the properties of the dust. Realizing how inefficient this was, they contacted A.C.T. Dust Collectors. Upon studying the application, our team recommended a baghouse system instead of a cartridge collector system. Our team explained to the manufacturer the differences between a baghouse verses a cartridge collector and why a baghouse would work better for their application.
Based on this recommendation, the manufacturer made the choice to purchase an A.C.T. TLM198-10 baghouse dust collector. Since the system has been installed, they have not had any issues and it has required little to no maintenance.
The manufacturer now takes into consideration the importance of using the right dust collector in the right application. In a separate application they were collecting fine paint powder. This dust needed to be collected to keep the air in this area of the facility clean. After A.C.T. Dust Collectors reviewed the case, they determined that because the dust was so fine and powdery a cartridge collector was best for this application. The manufacturer has since purchased an ACT 3-18 cartridge dust collector for this need.
This manufacturer now relies on A.C.T and their experts to make dust collection decisions. Let us help you choose the right dust collector for your application today. Also check out our "Cartridge or Baghouse?" blog.
ACT Dust Collectors are installed all over North America in many applications. Our experts have the knowledge and skills required to help you resolve the dust problem at your facility the most quick and efficient way. Contact Us Today!
(763) 557-7162 | info@actdustcollectors.com