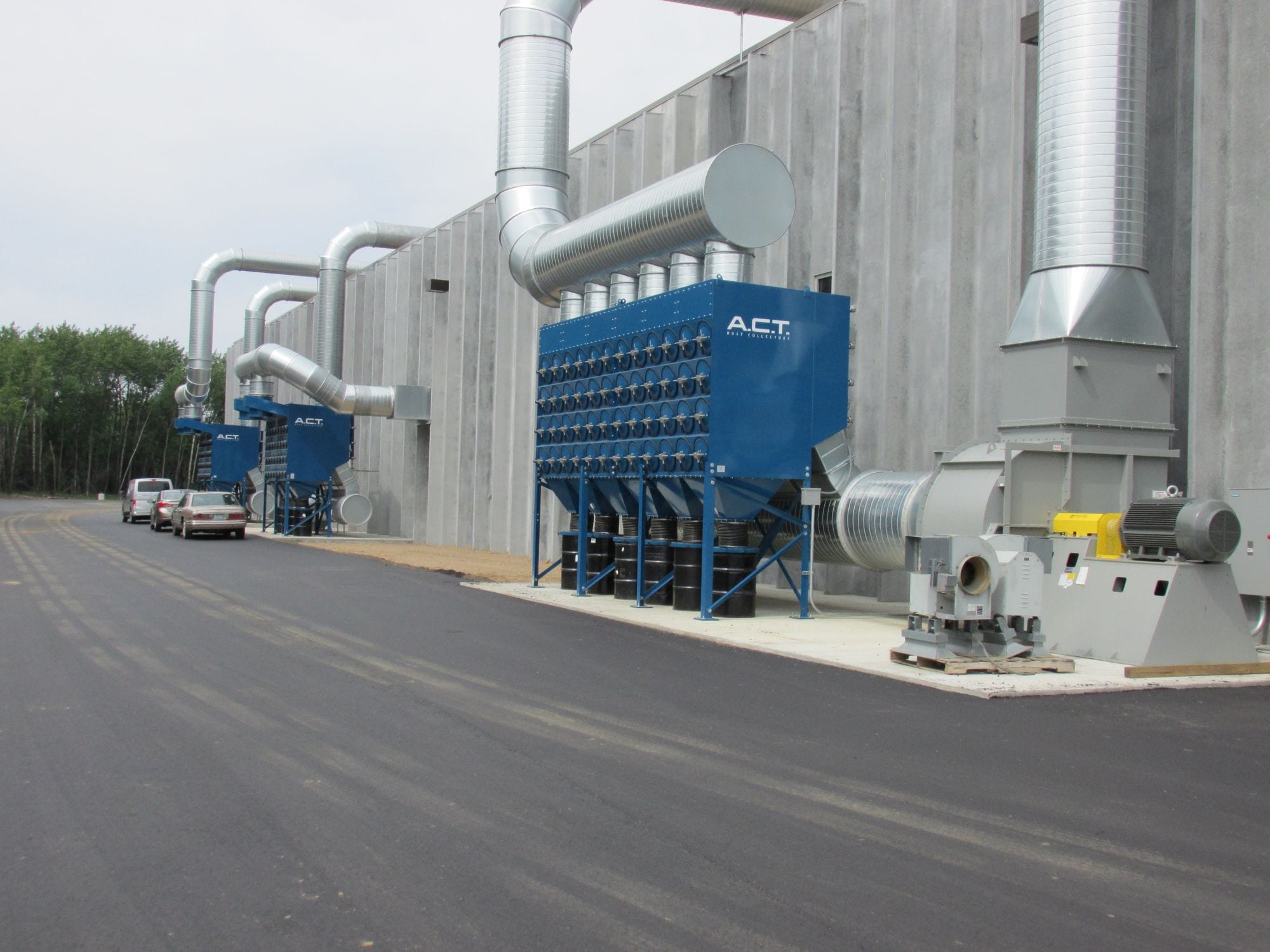 Park Industries located in St Cloud MN, is the largest North American manufacturer of stone working equipment including CNC saws and routers. Starting in the fall of 2014, Park Industries began an expansion with the goal to increase manufacturing capacity and space to support their growth. Over 17% of extra capacity and over 17,000 square ft. of manufacturing space were added allowing Park to handle higher volumes of orders. Part of the expansion included adding a second large blast booth (20'x20'x40') to keep up with the blasting demands.
Greg Miller, facilities manager at Park Industries, contacted local ACT Dust Collector distributor, Joe Lyon of St. Cloud Refrigeration to discuss improving the collection on the existing blast booth as well as a collector for the new blast booth. Miller also wanted to address the 960,000 cu. Ft. of weld/fabrication area.
Lyon proposed installing an ACT 4-64 rated for 30,000 cfm on each of the blast booths and an ACT 4-96 rated for 60,000 cfm for the weld area. "After evaluating various booth blast solutions on the market, we purchased the ACT collection system from St. Cloud Refrigeration," comments Miller. "We were extremely impressed with the air flow and quality from this system, and as a result, have made modification to our original blast booth that was being marginally managed by a collector rated for 21,500 cfm to improve the air quality and performance." VFD's were also utilized on all systems allowing air regulation and reducing energy costs.
"We are very happy to partner with St. Cloud Refrigeration," adds Gerry Waletzko, Director of Project Management. "They assisted us in selecting the state of the art solution as well as modifying our current system to regulate air flow while focusing on conserving energy." Installation was completed early 2015.