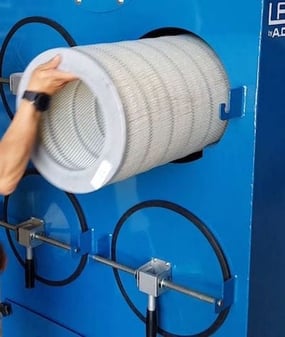 Using the right filter matters, and the first step in determining which type of dust collector filter you should be using comes
down to one main question: What application am I using it for?
What type of dust collector should you be using? Let's compare stats on the two standard types of dust collector filters:
Bag Filters
This type of filter consists of cylindrical bags (or tubes) made of fabric. Bag filters are typically used for heavier loading applications.
Bag filter efficiencies are closer to five microns.
Fabric bags typically have a longer service lifecycle than cartridge filters and can handle a more demanding application with a heavier dust, such as wood and grain dust.
Bag filters are most effective when the particulate is larger and the loading is extreme.
Cartridge Filters
This filter is very efficient for fine dust and lighter loading applications, such as welding, plasma, laser and other fume or smoke applications.
Cartridge filters operate efficiently down to .3 microns.
There are two types of filters that will cover 95 percent of those applications:

Nanofiber filter — Available in a standard or flame-retardant version and is extremely efficient on very fine particulate. In other words, nanofiber filters are better for very fine dust and lighter loading, where a polyester filter would work better with larger particulate and heavier loading.
Spunbond polyester filter — This filter is a much heavier/thicker media and is more durable, but not as efficient.
Both cartridge and baghouse collectors each have a place in the dust collection world. A.C.T. Dust Collectors offer two different types of dust collectors:
1. TLM Modular Baghouse
Our TLM Modular Baghouse filter uses a bag style filter. It's easy to install with the modular design, and its overall design is compact to minimize footprint and overall height to fit into tight spaces. The hinged access doors and our exclusive tool-free bag replacement provide easy maintenance.
This filter is designed to meet industry demands and the unique requirements of each application. For instance, the dimensions of the TLM Baghouse offer ease of use and it doesn't require an oversize permit in the transportation industry.
Additionally, operating the filter is simple and efficient. Dust-laden air is drawn from the source through a duct system and into the hopper inlet. By utilizing computerized simulation software, the pulse jet cleaning system operational design has been optimized for efficient cleaning and air flow. The TLM Baghouse features downtime cleaning as well, so the system performs a clean cycle after shutdown to ensure maximum dust release and long filter life.
2. High-Efficiency Nano-Elite Cartridge Filters
Our high-efficiency Nano-Elite cartridge filters come in a variety of sizes and configurations with a MERV 15 efficiency rating.
These filters remove 99.9% of the particulate from the air stream. The cleaned air is then directed to the location of your choice, either returned to the facility or exhausted to the environment.
Each one of our cartridge dust collectors is equipped with a venturi-assisted reverse-pulse filter cleaning system and a digital, solid-state pulse control panel. The controls utilize an on-board pressure switch allowing on-line, on-demand and down-time cleaning. A weatherproof housing protects the controls for long, trouble-free life.
The most popular feature of a cartridge dust collector is the exclusive ACTion-Lock Quick-Release filter door. Only aluminum and stainless steel parts are used in the construction of the door cam and mounting brackets for maximum durability in any environment. Dust collection is critical to your operation and has many moving parts — especially during the decision stage. Incorporating these considerations into the purchasing process will ensure you walk away with a more appropriate and efficient dust collection system.
A.C.T. Dust Collectors offer the ultimate in air filtration. Whether your application includes welding smoke, grinding dust, cutting table fume, shot blasting, sanding, thermal spray, coating, bulk powder handling or any process that generates dust, we have a dust collection system for you.
Contact us: (763) 557-7162 | info@actdustcollectors.com